DATE:

AUTHOR:

The SafetyChain Team
New Features
Release Notes
Sneak Peek
DATE:
AUTHOR: The SafetyChain Team
The following is being released into the Train environment on 07/23/2023 for Web and 07/24/2023 for LINK.
Please feel free to test these new capabilities in the Train environment, and let us know if something doesn't work as expected.
Barring any critical updates or quality concerns, we intend to release this into the Live environment on 07/30/2023 for Web and 07/31/2023 for LINK, and will publish the mobile apps on 07/31/2023. More details, including images, videos, and other support content, will be included in the full Release Notes.
July Version Numbers
LINK 2.33
iOS, Android, Windows Apps 6.39
Features Released
(LINK) New LINK Menu Updated to Include LINK and Web Modules – To streamline the navigation experience within SafetyChain, the menu in LINK now includes all of the modules in both the Web application and LINK. This updated menu also includes new, more logical categorization for the various menu options as well as a few updated module names to provide better clarity. For more details from previous communications, please visit the "Link Has a Shiny New Menu!" spotlight post and the June TRAIN release notes.

In addition, we have since made some changes and updates that are worth noting:

Some functions are best accessed outside of a category:

Top of Menu: Home, Inbox, Browser

End of Menu: Language Selection, Logout

Updated Module Names: A few of the main menu options have updated names to more accurately reflect their purpose. These include:

Note: Any module that is available in Web instead of LINK will open in a separate tab.

Customer Beta Feedback Summary:

Below is a summary of the outcomes from 2 customer feedback sessions and 1 internal session after the June Train release. Most of the changes are grounded in ensuring the Menu is easy to use for operators and admins alike, and some changes were necessary for the operator persona. We'll keep holding these sessions regularly and will continue to optimize our navigation options. Here's what will be implemented ahead of the Live release in July:

Adding a Search bar for the Menu

Moving Home to the top of the Menu

Moving Inbox and Browser out of categories to be after Home

Moving Logout out of a category to be at the end of the Menu list

Consolidating Records and Configurable Records into one Category

Moving Data Export & Visualization to Records

Moving Time Zone Selection under the User's First Name Last Name category

There was also positive feedback about the System Management and Workflow Management sections that will help us analyze future work with the Home page, quick link navigation in modules based on workflows, and the Menu - we won't be introducing changes here yet, but we have some good future discussions planned!

(LINK) Forms Manager Grid Updates – The Forms Management module in LINK has been enhanced to combine the power of Form Designer and Forms Manager, with the usability of the Browser view. To view more details from previous communications, please visit the spotlight post, "Forms Management Made Easy in LINK!".

(LINK) Filter Panel for Resources Attributes Grid: Users can now filter Resources by their Category, Location, and Related Resources directly in the Filter panel in combination with the Resource Attribute filters available above the Grid.

In order to avoid confusion, filters only support multiple selections if the values are visible in the grid; because of this, Category and Attributes are the only filters in this grid that support multiple selections. Location and Related Resources can each have only one filter selected.

To find Resources based on a combination of Locations and/or Categories, continue to utilize the Resource Hierarchy Grid.

(LINK) Manage Supplier Users in the Supplier Resource: In SafetyChain, a Supplier has the most functionality when it is a Resource and has Users associated with it. Now, Users can manage the two together with the new Supplier Users tab in Supplier Resources. View and edit any existing Supplier Users directly from the slide out and add new Supplier Users when needed. Setting up a new Supplier Resource and the Users can now be completed right within the Resources module.

(LINK) Case Name Field Validation: Because certain special characters (such as @ or ") can interfere with Task creation, we are introducing a new field validation in Cases. This field validation will ensure that any names entered within a Case (such as Case name, Task name, Source, etc.) do not contain any of these characters. If a User does try to submit a name that contains any of these characters, Users will see an error on the field until the name is updated.

(LINK) Associate Case Programs to Categories: Instead of being limited to creating a singular Case program, Users can now create multiple programs and choose which program(s) should be associated per Category. By default, the existing Case program will be added for every Category. If selections are added or removed, only the relevant forms for the associated program(s) will be displayed when creating a task. The program name will still need to contain the word 'Case'.

(LINK) Case Task Filtering for Resources: When creating a task in Cases, the list of Resources will now be filtered to prevent Task creation issues. The location and form must be selected first to see an accurate list of Resources that are valid for both selections.

(LINK) Visible Filters for Disabled Resources: In response to customer feedback, we have addressed Users' confusion that Disabled Resources were not previously displayed in the grid. The default behavior - that only enabled resources are visible - will remain the same; however, we have introduced a visible filter labeled "Hide Disabled Resources," which can be easily removed to display both Enabled and Disabled Resources.

Additionally, the Filters have been updated to the following in the filter panel and the filter chips. The Users Management modules will have a similar update in upcoming releases.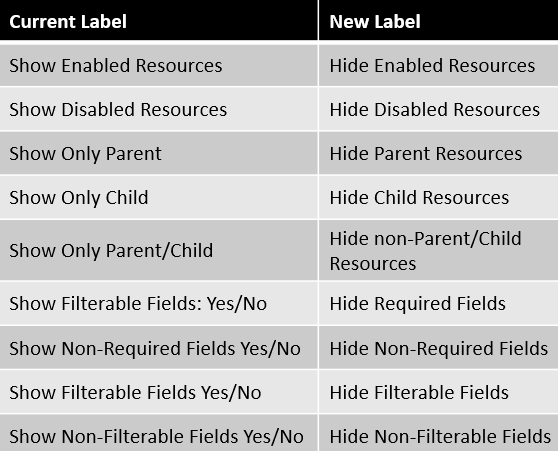 (LINK) Added Ability to Configure Significant Digits on SPC Charts: When setting up your SPC charts, you can now configure how many decimal places to show on your configured chart. Navigate under settings and set your Range Chart, Control Limits, and Field Values decimal places to show on your chart.
(LINK) Exporting Data from Tables on a Dashboard: Now, when setting up SPC, Form, and Field Charts OR when viewing on a dashboard panel, Users can now click "View Data" to review the data behind the chart and easily export it into XLSX.

Bugs Fixed
Various bug fixes and improvements
Key Updates
Barring any critical updates or quality concerns, we intend to release this into the Live environment on 07/30/2023 for Web and 07/31/2023 for LINK, and will publish the mobile apps on 07/31/2023.
Get product updates directly in your inbox
If you haven't already, subscribe to receive product updates directly in your inbox. Hit the orange 'Subscribe to updates' button on the Improvements HUB to ensure you're the first to know about the latest and greatest product improvements. You can even customize the updates you wish to receive by subscribing to specific categories!
Got Questions or Feedback?
We'd love to hear from you! You can submit, view, and track your ideas at the Ideas Hub, which is directly accessible through this interface.
As always, our knowledge base will be updated with additional details, screenshots, and how-to's on everything we ship in the Live environment. If you still can't find what you're looking for, feel free to reach out directly to our Support team 24/7!