DATE:

AUTHOR:

The SafetyChain Team
TRAIN Release: August 2023
DATE:
AUTHOR: The SafetyChain Team
The following is being released into the Train environment on 08/20/2023 for Web and 08/21/2023 for LINK.
Please feel free to test these new capabilities in the Train environment and let us know if something doesn't work as expected.
Barring any critical updates or quality concerns, we intend to release this into the Live environment on 08/27/2023 for Web and 08/28/2023 for LINK; we will also publish the mobile apps on 08/28/2023. More details, including images, videos, and other support content, will be included in the full Release Notes.
August Version Numbers
LINK 2.34
iOS, Android, Windows Apps 6.40
Features Released
(LINK) Filter Case Task Assigned Users by Location - When a Case Task is created, the User has the opportunity to select an Assigned User to help filter down open tasks in the Inbox quickly. The existing Assigned User field shows all users who are part of the Case Management Workgroup; however, with this change, the Assigned User list will now have an additional filter that only displays Users associated with the Task Location. This new filter reduces the risk of assigning a Task to a User who is not able to see the Task, while adding to SafetyChain's ability to support Case per Location.

Note: This enhancement was already released to LIVE.

(LINK) Additional Email Statuses for Supplier Email Reporting - We have expanded the supplier Email Bounce Reporting statuses to provide additional insights to customers and bring notification concerns to the surface faster. The additional new statuses are Blocked, Dropped, Invalid, or Deferred; the original 'Bounced' status will remain.

(Android & iOS) Additional Attachment Formats Now Supported for Viewing - Users can now view attachments in mobile for the following formats:

Image (png, jpg, jpeg)

MS Word (doc, docx)

MS Excel (xls, xlsx)

Pdf (pdf)

Text (txt, rtf)

Comma Separated Values (csv)

Note: iOS will preview the files and Android will use the default 3rd party application to open the file.

(LINK) Users Drop-Down Display - A new drop-down option will now display more Users in the grid in Internal and Supplier Users in increments of 50, 100, 200 or 500.

(LINK) Resources Menu Category Name Updates - Thanks to great customer feedback, we have updated the names of the Hierarchy Grid to "Resources by Hierarchy", and the Attributes Grid to "Resources by Attributes", in order to make it clearer that these are management functions and not only a report grid.

(LINK) New Validation on Resource Attribute Add Filter Button - In Related Resources and the Resources Attributes Grid, Users can add multiple filters for various Resource Attribute Fields. To add clarity on the required workflow, the "Add Filter" button will be opaque until a value is selected or typed into the filter, helping to ensure that Users know when they may use this function versus when they cannot.

(LINK) Visible Filters for Disabled Users - In response to customer feedback, we have introduced a visible filter labeled "Hide Disabled Users" in the grid. The default behavior will remain the same, where only enabled resources are visible; however, you can now choose to display both the Enabled and Disabled Users by unselecting this filter.

(LINK) Unlock Edit User Details - An "Unlock" button is now visible for locked Users in Internal Users and Supplier Users.

(LINK) Location Attribute Fields SubModule - The Locations Module now includes a submodule navigation to Location Attribute Fields where Users can create, edit, re-sort and disable Location Attribute fields.

(LINK) Provide the Ability to View Data in a Table Format and Export for Operational Charts - When setting up operational charts or viewing on a dashboard panel, you can now click 'View Data' to review the data behind the chart and export it into XLS: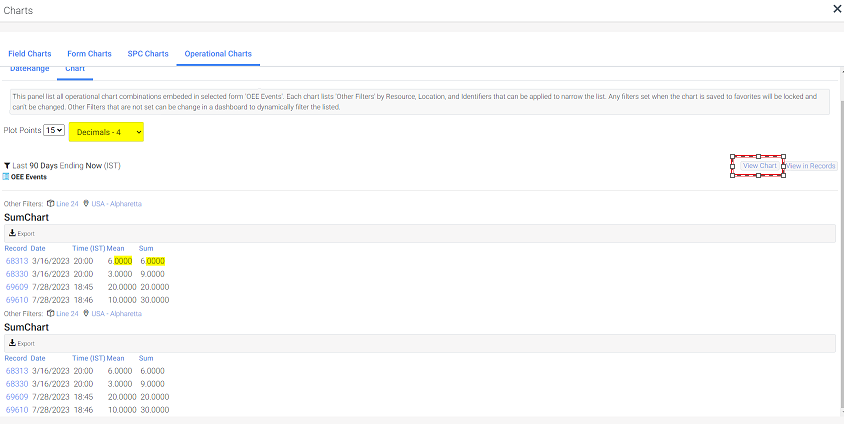 (LINK) Added Ability to Configure Summary Values on SPC Charts - Under Settings, you now have the ability to add Decimal Configuration for Summary Values for SPC Charts. This includes the XI, MRBar, LCL, and UCL values:

We have also added Decimal places for DATA tab & Export on Form Charts. These will be configurable on the chart data: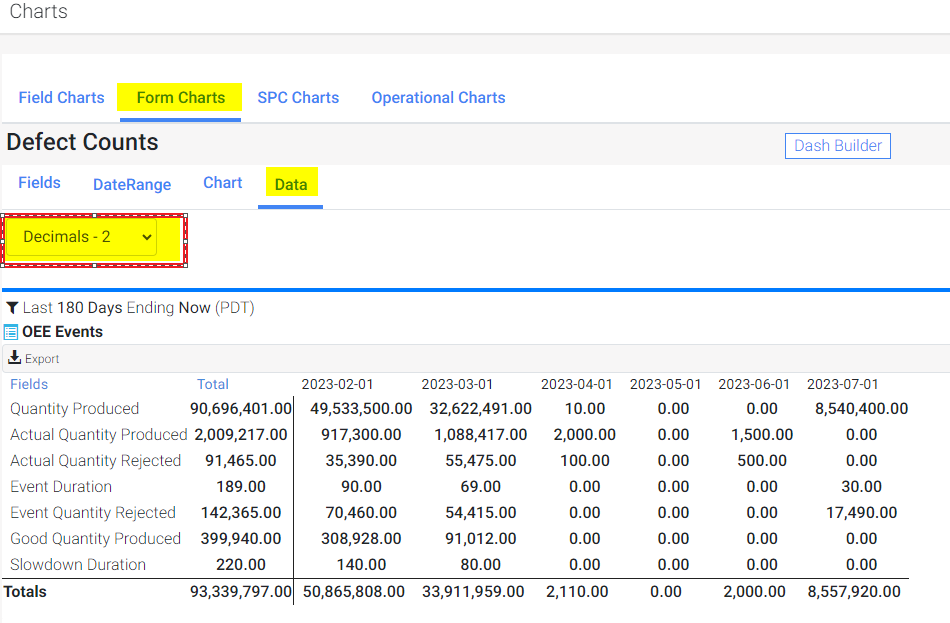 Bugs Fixed
(LINK) Resolved an issue in Resources that resulted in Users not being able to select for more resources to be visible in the grid in the Parent/Child tab.

Various other bug fixes and improvements
Key Updates
Barring any critical updates or quality concerns, we intend to release this into the Live environment on 08/27/2023 for Web and 08/28/2023 for LINK; mobile apps will also be published on 08/28/2023.
Get product updates directly in your inbox
If you haven't already, subscribe to receive product updates directly in your inbox. Hit the orange 'Subscribe to updates' button on the Improvements HUB to ensure you're the first to know about the latest and greatest product improvements. You can even customize the updates you wish to receive by subscribing to specific categories!
Got Questions or Feedback?
We'd love to hear from you! You can submit, view, and track your ideas at the Ideas Hub, which is directly accessible through this interface.
As always, our knowledge base will be updated with additional details, screenshots, and how-to's on everything we ship in the Live environment. If you still can't find what you're looking for, feel free to reach out directly to our Support team 24/7!