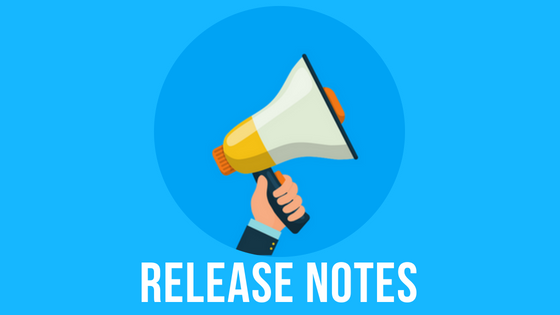 DATE:

AUTHOR:

The SafetyChain Team
New Features
Release Notes
Fixed
DATE:
AUTHOR: The SafetyChain Team
SafetyChain is excited to announce details of our monthly release for the month of May 2022
This month was full of a lot of bug fixes. We slowed down on feature delivery to address application performance, quality, and address user experience. A few exciting features included for Tasks and in OEE
Top 5 Highlights
OEE filters can now be saved and used easily at any time

Task status pop up messages are now enabled on Saved forms related to Tasks as well. If a task has been completed, recalled, reassigned, or saved again, the user will get a pop up message when they click on the saved task.

Saved task data is available right away now. Users will not need to refresh the page to open the task with the most current data included

Search values are retained when searching for pick-lists for User management
We pulled together a short video to walk through our highlights! You can access it here
Here's the full list of new features that went live this month
Since you heard from us last, we've also shipped:
Added Pop up messages to the Saved Forms grid when a task status has changed since the last time the user loaded or refreshed the saved forms. Messages will appear if the saved task has been saved again, completed, recalled or reassigned.

Updated Saved tasks so the Saved record data is always available for the user when they click on the saved task without requiring them to refresh the page. They can continue to decide whether to open or close the task when they get notified in the pop up.

Updated Users so the search text is retained after the user makes a selection from a multi-pick list. This updates the Roles, Workgroups, and Locations behavior.

Added a field validation to Case Stage Names to prevent the user from typing in more characters than are allowed. The field accepts up to 50 characters.

OEE filters can be saved.
We Fixed some Bugs
Partial list of bugs addressed
Resolved an issue in Form Designer that resulted in all field compliance values being removed when a value option included in the compliance panel is deleted from the field.

Resolved an issue in Documents Management that occasionally resulted in a mismatched modified by date in the document and the grid.

Resolved an issue in Record Edits that occasionally resulted in the field value changing for date/time fields that used the "date now" value in an expression when the record was edited, even when that field wasn't edited.

Resolved an issue in Box and Whiskers chart types that resulted in filters not applying after navigating to the Dashboard.

Resolved an issue in Supplier Compliance Reminder Emails that occasionally resulted in supplier reminder email schedules timing out.

Resolved an issue in Report Builder that occasionally resulted in "Field

Order" being selected when the user selects "Signed Count" column to display.

Resolved an issue in Spreadsheet Pivot view that resulted in the exported data displaying UTC time.

Resolved an issue in Dynamic Flow Utility that resulted in edits to a copied Expression Codes updating the original copied flow.

Resolved an issue in Print view that resulted in the date and time values from the submitted record not staying locked in the submitting user's timezone when printed as a PDF.

Resolved an issue in Dashboards that resulted in the search not limiting the Dashboards list shown.

Resolved an issue in Supplier Documents that resulted in the wrong number of days until expiration being calculated.

Resolved an issue in Secure Profiles that occasionally resulted in a count mismatch between selected items for filters and the number of filters applied.

Resolved an issue in Dynamic Flow Utility that occasionally resulted in the Identifier value selected not populating in the task name. Drop down will now display Field Short Names instead of field names.

Resolved an issue in Cases that resulted in an error message when search text included a single quote.

Fixed an issue where filters applied in OEE pages were not persistent when navigating to new OEE pages.

Fixes an issue on the OEE monitoring view where excessive digits were displayed.

Fixing an issue where the availability chart was not displaying in the Live Monitor.

Resolved an issue in Secure Profiles History that occasionally resulted in the incorrect date in the last modified date.
Various other bug fixes and improvements
Finally, Some Key Updates
The team is continuing to work hard toward performance fixes in the application. There will be updates to our infrastructure almost every weekend for the next several weeks. If you continue to face challenges, please reach out to our Support team.

June release coming up! Stay tuned!
Get product updates directly in your inbox
If you haven't already, subscribe to receive product updates directly in your inbox. Hit subscribe above to ensure you're the first to know about the latest and greatest product improvements. You can even customize the updates you wish to receive by subscribing to specific categories!
Got Questions or Feedback?
We'd love to hear from you! You can send us feedback directly through this interface, ask us a question, or just say hi!
As always, our knowledge base will updated with additional details, screenshots, and how-tos on everything we've shipped this month. If you still can't find what you're looking for, feel free to reach out directly to our Support team 24/7!